Health & Fitness
Vanessa Angerer: 465km for Mental Health
In the month of April 2022, LSKD Athlete Vanessa Angerer is embarking on a painful but powerful journey to raise money for a small Tasmanian based charity (Stay ChatTY) that works with those fighting their own mental health battles, reducing the stigma of depression and anxiety and helping prevent suicide by encouraging people to seek help.
For each day of April, Vanessa will run that equivalent number in kilometres; so for the 1st of April, that's 1 km, for the 2nd that's 2km and so on… By the end of the month Vanessa will be smashing out 147km and 165km a week respectively - this is a mammoth effort for a good cause and we couldn't be more proud of her.
The LSKD crew will be following her journey this month, documenting some runs and checking in with how she's going - we want to help all her efforts make an impact so please share this or her links below and get involved! Any donation is appreciated, please check out her fundraiser here and the charity to which she is donating here.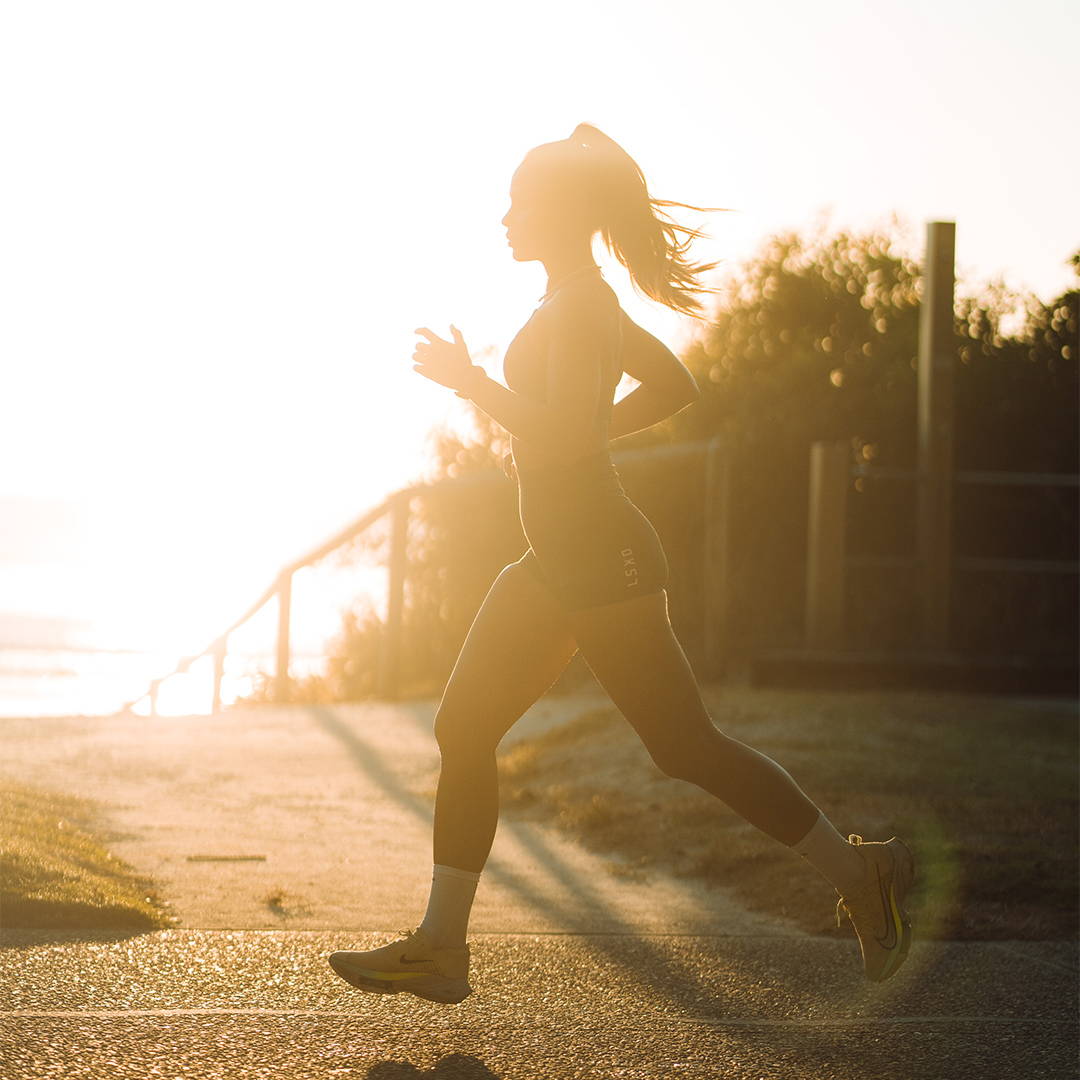 QUESTION & ANSWER
Why are you running 465km in April?
"First off, I was inspired by my friend Jake who did this challenge last year and I said I'd give it a go later on in the year and just didn't get around to doing so. Leading up to my recent first ultra marathon race, the Noosa Ultra 80km Hinterland Traverse, I knew I'd need something to occupy me in April as I wasn't doing any races or events, so this was the time to do this. I've also noticed that with some of the hectic challenges I've bestowed upon myself, I've created a lot of conversation because it really is something different to be doing, just going out running some long distances to challenge myself. Instead, this time I thought it would be good to do a fundraiser alongside this challenge, hence now raising money for mental health."
What charity are you supporting and why?
"I'm supporting 'Stay ChatTy', a Tasmanian based NFP which helps spread the message across the community that it's ok not to be ok and to seek help when you need it. I've previously done fundraisers for Black Dog Institute and Headspace, and while I love these charities, I just wanted to support a smaller charity to aid them in the amazing work that they do to help those struggling with their mental health feel supported and know that there are pathways to help them."
What part is going to suck the most?
"Those last two weeks will do me in - 147km and 165km. Like back to back days of long k's, I ran 23 and 24km for the last day of being 23years old and first day of 24 years old and that hurt. But, I will persevere because it is a small price that I will pay for a cause much greater than me."
How important is having a support network around you?
"SO IMPORTANT, seriously, I will never forget the people who have been there since day one, and of course the new relationships in my life, those people, friends and family, have been my biggest supporters which have played a huge role in getting me through everything in life. I'm a better person because of those around me. I am so thankful that friends that have known me before running was ever a thing for me, have stuck with me on this journey and are so supportive of this change in direction of my life. I ran my first marathon last year and my day one friends came at 6am (way earlier than they would normally wake up) and supported me up and down the coast."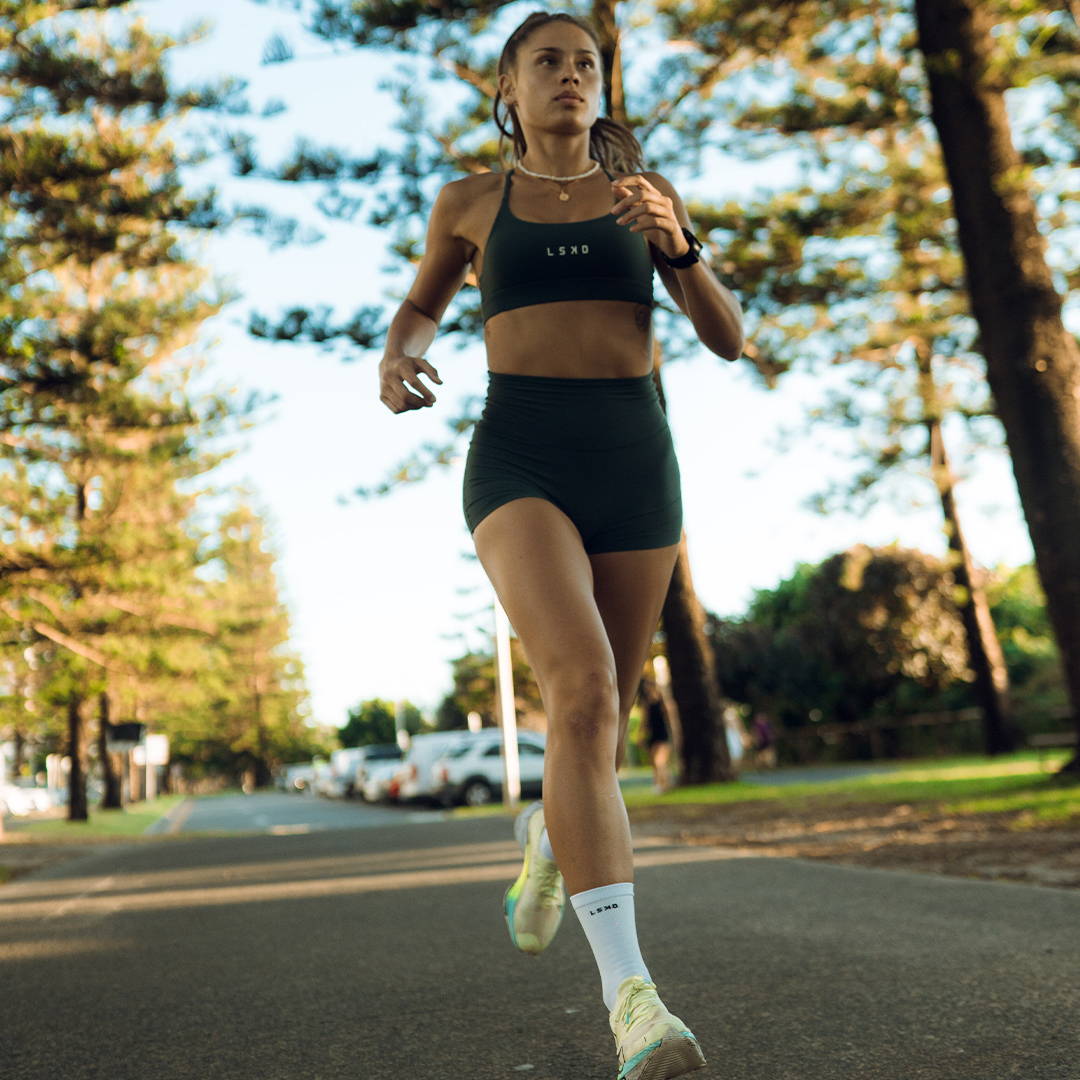 How do you think you'll feel after this is over?
"Relieved that the pain is over, proud of myself for getting it done and for however much funds are raised by the end of it, grateful that I'll have gotten through it with such a beautiful network of people around me."
How are you going to recover during and at the end?
"Rigs recovery 100%, ice baths, compression boots, cryo on the sorest parts, massage gun, stretching, walking, not walking."
What is the crucial gear that will get you through?
"For the most part, I'll be cycling through the elixir range, comp shorts and base range. My Nike tempos are going to be my saving grace, although they're already reaching the end of their life sadly. Other than that, there's really not much else, I run pretty light, rarely wear tops over my bras."
WHAT IS VANESSA WEARING?
---