Behind The Brand
2022 was the year for evolution. The year for transformation. For discovery.
This will be the year we look back on as the start of something new.
2022 is the year #chasethevibe took on a life of its own.
Here's what went down.
WE MOVED INTO OUR NEW LSKD HQ
Back in September 2020 we put pen to paper on the first drawings of our new LSKD HQ. In the year-and-a-bit that followed our team were forced apart; with the fulfilment team working in 5 different warehouses as we continued to grow. The remainder of the office crew stayed behind in our O.G office in Staplyton, which we've worked from as a brand for almost 12 years.
In January, we had our first day in our custom-built HQ and finally re-united our amazing team. We want our new HQ to be a #chasethevibe epicentre, where our mission and culture is brought to life and shared every step of the way with our community. The LSKD HQ reflects all the hard work the team have put in over the years and will also be our biggest tool to help facilitate the EVEN HARDER work yet to come.
LSKD X LOGAN MARTIN
We launched our collection with athlete Logan Martin! This drop celebrated @loganmartinbmx as one of our LSKD Olympic Athletes with each piece designed to meet his performance requirements. After years of dedication and being a part of our brands journey, we were excited to bring this collection to life!
LAUNCHED OUR NEW FABRIC – THE ZEPHYR FABRIC
We launched a new fabric for the first time in three years! 12 months in the making, our design team has perfected the blend to bring real technical performance with a second skin feel. With no front seam and booty shaping contour panels, Elixir hugs all the right corners and curves without rolling down or riding up.
WE OPENED OUR FIRST RETAIL STORE – LSKD HQ
We launched our
first physical retail store
at our LSKD HQ and welcomed roughly 700 of our amazing community through the doors to celebrate with us on opening day!
INTERNATIONAL WOMENS DAY
We celebrated women in the most beautiful light; inspired by International Women's Day, We held an
event
highlighting, celebrating, and empowering the women of our world to lead fearlessly, cultivate divine feminine energy, to never hold back, and to be inspired by her truth.
TRUST US PACKS
We launched our Trust Us Packs with exclusive product and 100% GOOD SH*T! There was 15 Golden Tickets to WIN with $10,000 in Chase The Vibe prizes!
EAGLEBY FLOOD CLEAN UP
QLD and NSW were hit hard with some of the worst flood waters we've seen in years. Being based in Logan, QLD our HQ has escaped the worst of it, but some of our local friends and family lost everything.
As a team, we joined forces with The Eagleby Giants, Wesley Mission Queensland, Logan City Councillor Karen Murphy, Nightlight, Rotary Club of Beenleigh, and Beenleigh Baptist Church to coordinate a local mud army to assist residents in need.
USA TOUR
We went on the first USA tour to see the team since COVID-19! We spent time with athletes, founders, creators, and sharing our mission of inspiring people to chase the vibe through sport, fitness, and adventure.
THE TORIAN PRO
We set up at our first huge event – The Torian Pro! It was the CrossFit semi-final event for all of Oceania. If you could describe the event in one word, then it would be… EPIC!
THE LSKD APP 1ST BIRTHDAY
We celebrated our 1st App Birthday and gave you 30% OFF App-Wide... but for 48 hours only!
If you haven't checked it out already,
download now
for exclusive drops, discounts, and cheeky insider tips.
#REPWITHPRIDE MONTH (RAISED $21K)
We celebrated
Pride Month
with a huge event and a new collection for our community, donating 5% of sales to our friends at Wear It Purple! But our donation didn't stop here. We have continued to donate 5% of sales to Wear It Purple as the collection continues to restock.
The funds we raised as a community went towards:
Providing schools with valuable resource.
Ensuring merchandise is affordable for all
National growth and participation in pride events across Australia
Official Wear It Purple Day events in every capital city, territories, and regional areas
EATS AND BEATS AT LSKD HQ
We hosted Eats and Beats at our LSKD HQ with the Logan City Council. There were more than 20 food trucks, live music, and lots of our community there for a night full of vibes!
GOLD COAST MARATHON
Team LSKD took on the Gold Coast Marathon, setting strides from 21.1KM - 42.2KM competing in both the half and full marathon.⁠ It was epic to see the team get out there and take on the challenge. We were so proud of everyone's efforts and commitment to pushing their limits to be 1% better every day.⁠
LSKD X GEORGIE STEVENSON
From what started as an old friendship, evolved into an exciting new story. We launched the
'Rise' Collection by Georgie Stevenson
, that included 21 styles across Men's, Women's, Kids and Accessories carrying one vision, inspired by the persistence of the human spirit to 'Rise' and push to be 1% better every day.
LSKD RUN CLUB
We brought back the LSKD Run Club for our community. 20 minutes out. 20 minutes back. Start together, finish together. Whatever your ability, it's about being that 1% better. Run like you.
WE RELEASED OUR NEW FUSION TIGHTS
After feedback from our community, we launched our new 'Fusion' tights. Fusion combines features from four of our beloved legging styles, Base, Flux, Elixir and Rep. Fused with all the good stuff, including a high-rise fold over waistband, side pockets, 4-way stretch Rep fabric and we've removed the front seam for a comfortable, supportive fit. When it comes to versatile training, Fusion is your go to for all round performance.
LSKD X KHAN PORTER HQ WORKOUT
We had 7 x CrossFit Games Athlete and strength coach Khan Porter put the crew through an epic
45-minute full-body group workout
at our HQ. There was BIG energy, big vibes, and lots of sweat.
BREAST CANCER AWARENESS MONTH (RAISED $70K)
WE OPENED OUR SECOND RETAIL STORE – LSKD CHADSTONE
On the 1st of October we started a new chapter and
opened our second retail store
in Chadstone Shopping Centre, with A LOT of you legends stepping through the doors. Shout out to our amazing community who came to celebrate the store opening with us. We saw the first of our community lining up bright and early at 5:30am for a 9:00am open!
THE TEAM THREW DOWN AT THE NOOSA TRIATHLON
Shoutout to all the LSKD teams who threw down the Noosa Triathlon this year. We were incredibly proud of every team's effort, and it was amazing to see the team pushing their limits to be 1% better every day.⁠
HIRED OVER 200 NEW TEAM MEMBERS IN PREPARATION FOR OUR PEAK PERIOD
We hired a whole new fulfilment team of 200+ to ensure we got our communities' orders out within the quickest time frame through our busiest time of the year! Our Fulfilment Centre crew was working 24 hours around the clock to give our community the best possible shopping experience throughout our peak period!
WE CELEBRATED BLACK FRIDAY
We don't go on sale very often, so we worked hard behind the scenes for 12 months to bring the best experience to our community with our
Black Friday Sale 2022
.
Over 70,000 of you guys accessed the website and app at once on launch night and there were a few issues in the first 10 minutes of the sale that our team were working crazy to fix. We were so thankful we got everything running smoothly and we were able to process over 60,000 orders for our community on night one alone.
We packed 125,000 orders for our community during the sale and celebrated with a MOVE FAST workout at our HQ!
During the sale, we also celebrated our one millionth order online!
It all added up to our biggest event EVER, with more styles, more stock, and more team members than we've had before.
LSKD.TV LAUNCH
As we continue to tell the story of who we are, why we're here and where we are going; we thought it was important to have a platform dedicated to the stories that inspire this journey and continue to inspire us to chase the vibe.
LSKD.TV
is up and running and already hosts an assortment of some of our favourite short videos including those featuring the amazing individuals in our LSKD Athlete Team - so keep your eyes peeled for updates every week!
WE OPENED OUR THIRD RETAIL STORE – LSKD CHERMSIDE
On the 3rd of December, we officially opened our third retail store at Westfield Chermside Brisbane. Thank you to our amazing community who showed up for our official store opening! We had absolute legends lining up from 6:00am, with over 300 of you eager to enter the store before our 8:00am open!
WE LAUNCHED OUR VALUES TEE COLLECTION
This is more than just a collection of buzzwords, these 6 values represent who we are, what we believe in and where we are going. Progress lives in the process. By defining who you are and what you want, you will find others that see what you see.
-
And that's a wrap!
2022 was the year of momentum, and it's coming with us into 2023.
Thank you to our community for an epic year, you are why we are here and who we work for. We can't wait to have you join our journey for the year ahead.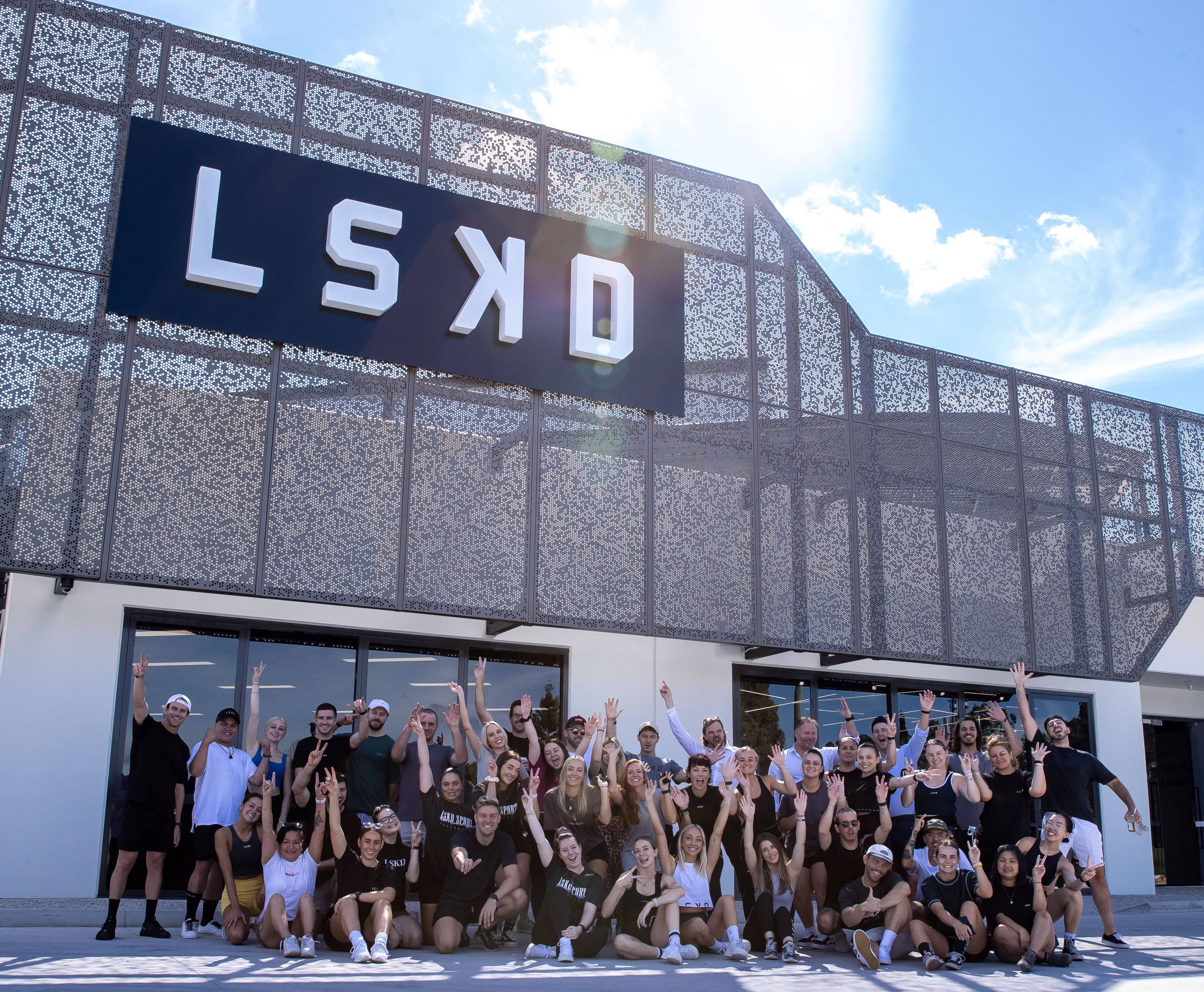 ---